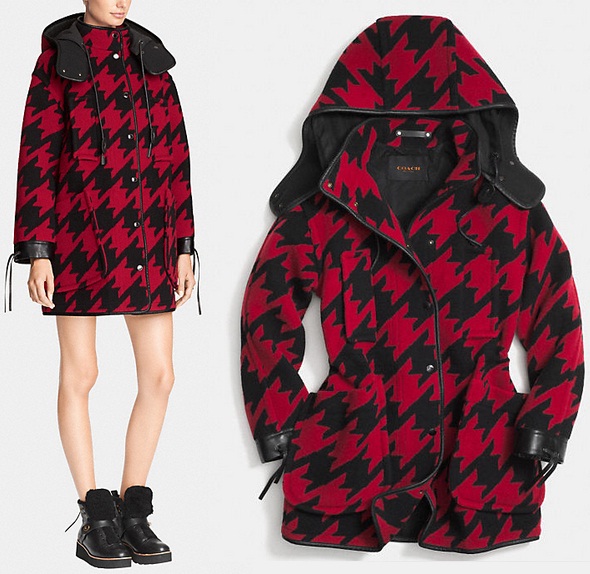 I can accurately recall every trend that swept through the locker lined halls of my massive mid-western high school.  From skin-tight pocket-less jeans and Juicy Couture tracksuits (butt labeling anyone?), to The Northface Women's Denali jacket used by many as a winter coat (not such a good idea when it gets below 20), I saw them all and made the conscious decision to steer clear!  Ok, ok, maybe I had a pair of pocket-less jeans…or two.  A recent Facebook #tbt post illustrating the ill-fated fashion decisions of a friend brought the memories of those trends rushing back.  Of those, the trend that sticks out to me the most was that of having a coveted Coach handbag dangling from ones arm.  With its iconic signature "C" logo, recognizable from yards away, Coach forged a name in the fashion hall of fame with their trendy leather goods yet in recent years, the brand has been overshadowed in recent years which has left me wondering about what happened to the oh-so coveted label in recent years.  While revisiting the latest collections of this old favorite, I fell right back in love with the brand.  Below are a few items that just made the jump to my fashion wish list.
Wallets – I rediscovered the beautifully made, classic and chic wallets that I once loved.  My pick from the latest collection is this Slim Envelope Wallet in Light Gold/Violet ($225).  These beautifully constructed wallets are made with a texture embossed leather and feature the iconic turnlock, a Coach signature.  The removable pouch makes this a versatile 2-in-1 in case.  I would be remiss not to mention the fun and vibrant colors offered.
Ready-To-Wear – The most exciting discovery I made has to be the Women's Ready-To-Wear garments.  For years, I associated Coach solely with their beautifully made leather goods, failing to take recognize the equally beautiful ready-to-wear pieces such as the Wool Houndstooth Parka ($1,495), this chic twist on a classic, Ruffle Neck T-Shirt Dress ($495), and finally, the Leather Biker Jacket ($1,595).  This jacket has earned a well deserved spot on my wish list with its removable shearling collar and biker inspired details.
Jewelry – As a very girly, girly girl, I absolutely love to place layers of bangles and jewelry around my writs.  I was excited to discover that Coach has several options to choose from just for this purpose.  Clockwise, Oval Bangle Set ($128), the Pave ID Bangle ($98), this Enamel Turnlock Hinged Bangle ($118) and finally this beautiful Dree Stainless Steel Wrap Watch in Ivory ($198).
Shoes – This was a tough one.  Between the Odelle Bootie in Saddle ($348), the Elm Boot  in Black ($398), and this oh-so-fun Samantha Flat ($248), I couldn't decide which shoes I wanted to feature.  The Zahara Rainboot ($198) ultimately caught my eye.  Perfect for the season, these moto-inspired boots made of waterproof rubber had me fooled at first glance.  These rainboots are a chic and sexy way to rock leather during a rain storm and did I mention they come equipped with slip-resistant (embarrassment resistant) outsoles?
Bags – To say that I'm obsessed with this Dakotah Fringe Flap Crossbody in Whiplash Leather ($795) would be an understatement.  I'm clearly a big fan of the crossbody bag as well as fringe of any kind evidenced by my recent feature of this Marnie Fringe Leather Shopping Tote in a post (found here).  This Coach bag is a much more versatile and functional take on the fringe craze as it is incorporated in a practical bag.
Before you go thinking this is sponsored post, let's be honest folks, my blog is way too new and way too small to get the attention of a multi-billion dollar fashion brand. 
You May Also Like