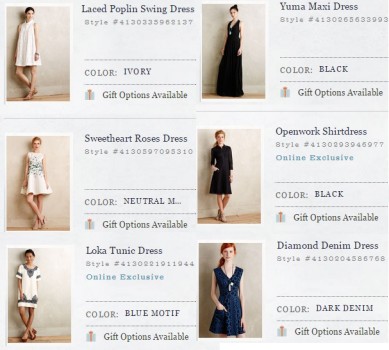 Happy Monday everyone! A few weeks ago I decided to take a new approach to the wish list series by taking a look at the items currently in my Sephora (here) and Banana Republic (here) shopping baskets.  Since those were so well received, I've decided to extend this version of the series which will be in addition to the traditional wish list posts in which I feature only one item from a particular brand (see past fashion and beauty wish list posts).  Today's wardrobe wish list takes a look at what's currently in my Anthropologie shopping bag.
Dresses
Skirts + Shorts
Tops + Jackets
While the Midwest has been experiencing some not so spring like weather as of late (it's been raining quite a bit and getting a little colder), this basket is full of things perfect for both spring and summer.  As you can see from the screenshots, I love their dresses and if I could fill my closet with Anthropologie dresses, I would.  But alas, my budget will not allow for it.   If I were to purchase all of the items in my Anthropologie basket, it would round to a grand total over $3,000 which is just slightly (and by slightly I mean astronomically) out of my budget.
Let me know what your current Anthropologie favorites are.
∞
Thank you for reading!  Hope you have a great start to your week.
You May Also Like