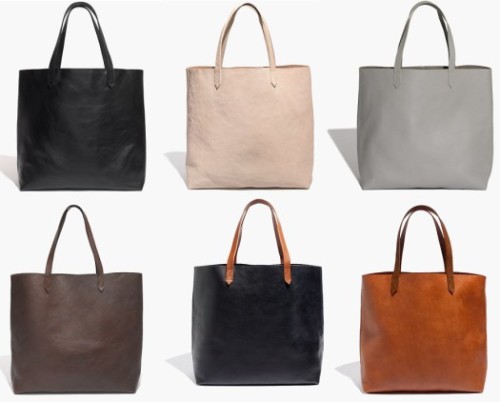 A friend of mine recently took her Facebook page asking for suggestions on affordable, practical and durable tote bags for her lifestyle and I immediately jumped at the opportunity to help her find the right bag. After discussing her price range, I emailed a few options I thought might meet her needs.  Now, it's no secret that I have a love affair with Madewell, writing about the brand here and mentioning their garments in several posts (here and here to link a few) so of course among the list of suggestions were a few Madewell totes.  Though she ultimately chose the McCarren Tote in silver (it's currently on sale for $133 with an additional 30% off, 45% with a student ID), I fell in love with the Transporter Tote all over again in helping her find a new bag.
There are several color options for the Transporter tote and even a zip option with a handle.  The shape and size of the tote are a perfect combination and petite women will not find the bag too overwhelming for their stature.  This bag could easily transport your cell phone, keys, wallet, laptop, makeup bag, planner and even a change of clothes and shoes making the name of the bag quite apropos.
While this tote is large enough to hold several items, the size will not overwhelm petite frames.  
This reversible option is the latest addition.
Thank you so much for reading and have a great weekend!
You May Also Like