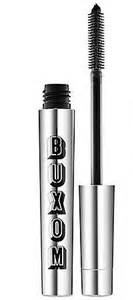 When shopping for mascaras, I tend to focus on two factors 1) the consistency of the formula, I prefer mascaras with a thinner consistency, and 2) the type of wand.  Due to the thick and curled nature of my lashes, what ultimately differentiates a loved product from one that finds its way into the discard pile lies in the wand.  For this reason, I've developed a fondness for mascaras with comb through wands.  I've found that comb through wands are better able to separate and evenly coat my thick and curled lashes without placing product on my eye lids.
My current favorite is the Buxom – Amplified Lash Mascara ($22).  This highly rated mascara is differentiated from others with its expandable, stiff wand.  With a simple twist of the applicator, one can expand the wand for thicker, voluminous lashes and contrast to allow for precision application, lengthening and separating your lashes.  The formula is of a thin consistency, allowing for even application without clumps or fallout while leaving a rich color payoff.  I would not hesitate to recommend this product to friends.  For other great mascaras with comb through wands, be sure to check the listed products below.
Benefit Cosmetics – They're Real! Mascara ($23) | Dior – Addict It-Lash Mascara ($26) | L'Oreal – Voluminous Million Lashes Excess Mascara ($7.99) | Maybelline – Great Lash Lots of Lashes Mascara ($3.99)
     ∞
 Let me know what you think of the Buxom Amplified Mascara or if you have other recommendations for separating mascaras you love in the comments section below.
With love ♥ Araba