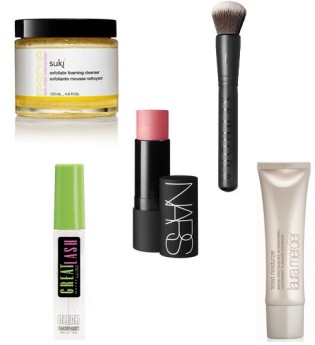 One of the biggest battles I have when beginning my day is the amount of time I dedicate to my beauty routine.  While I'd like to leave the house well put together, I rarely have the time to add full makeup application to my already hectic morning.  I've found that the key to simplifying my beauty routine in the morning is using products that serve more than one purpose.  Using just a few products that serve more than one purpose not only saves time, but money. Simplify your beauty regime with the suggestions below including a few products I highly recommend.
Eyes, Lips and Cheeks – Using one product to provide color to your eyes, lips and cheeks will not only save time in morning but greatly reduce the amount spent on product.  I've mentioned The Multiple by NARS  several times on A TUESDAY IN APRIL simply because it's a great product. This cream to powder multi-purpose product is great for travel and can be used on eyes, lips and cheeks. With over 20 shades, it's easy to find more than one to love.  Shown here in Riviera, these products are perfect for any season.
Exfoliating Cleanser – Cleansers should always provide a proper clean while leaving your skin toned and balanced.  Finding a cleanser that does all of those things while provide a bit of light exfoliation is not an easy feat.  So when I discovered the Suki Face Exfoliate Foam Cleanser, I knew I had to try it.  This 2-in-1 product is both an effective cleanser and gentle mechanical exfoliant. Made with sugar crystals, this cleanser initially exfoliates and slowly transitions to reveal a foam cleanser. This natural product will not only provide a deep cleanse but leave your skin feeling smooth.
One Brush, Many Uses – One of my favorite brushes is the Sephora Collection Classic Multitasker Powder Brush #45.  Though this brush was designed for use with mineral powders, I've found it comes in handy for applying cream and liquid products as well.  I use it every time I apply my makeup but tend to reach for it when in a rush and needing many products quickly.  The domed brush head is perfect for foundation, blush, finishing powder and even concealer.  Its soft bristles feel great on my skin and have kept this one of my favorite beauty tools.
Clear and Brown Mascara – If you read my Highly Recommended – Maybelline Great Lash Clear Mascara post then you know how highly I regard this product.  This is a great multipurpose product as it can be used for both lashes and brows.  I use the clear mascara for a natural and simple look and to tame unruly brow hairs.  To save some time on busy mornings, I like to use a lighter brown shade on both my lower lashes (this makes my eyes appear wider and more awake) and to provide a bit of tint to my brows without the need of a separate brow product.
Tinted Moisturizer – From the name, it's clear that a tinted moisturizer is meant to provide more for one's skin than moisture.  Tinted moisturizers are perfect for those needing only a hint of color/coverage to achieve a natural "no-makeup" look.  Laura Mercier has a great selection of tinted moisturizers perfect for spring.
You May Also Like