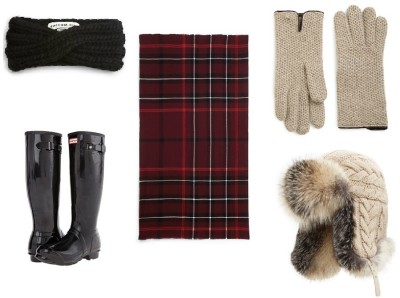 I woke up Monday morning to find the temperatures in my neck of the woods drastically drop from double digits to the low singles (it's been getting down to the negatives in the evenings!).  Well, I can't say that I was completely surprised.  Living in the Midwest, I've come to expect cold and occasionally brutal winters.  For this reason, I've been preparing myself, and those of you living in states that experience cold winters, with posts highlighting some of my favorite winter accessories such as statement scarves, leather gloves, winter boots and lets not forget this post regarding warm +fuzz stocking stuffers that come in handy all winter long.
With winter in full swing, I thought I'd share with you a few more accessories I'm currently loving.
Eugenia Kim Lula Wool Turban Headband (Orig. $100, Now $70) | Burberry Plaid Wood Scarf ($575)  Hunter Original Tall Gloss Rainboots ($148) | Portolano Honeycomb Cashmere Gloves ($95)
I'm sure this gorgeous Inverni Cashmere Knit Trapper Hat With Fox Fur is on many a wishlists and at $2,100 I think it's safe to say it shall remain a wishlist item.
∞
With Love ♥ Araba
You May Also Like