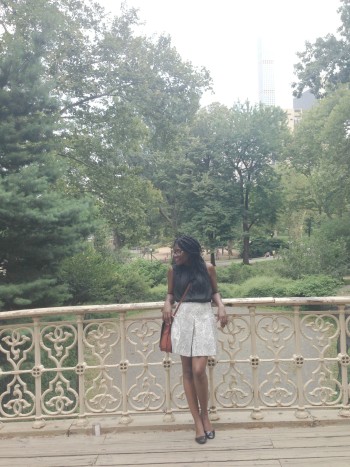 Happy Wednesday everyone! I took a lovely trip to NYC for my cousin's wedding and a much-needed vacation a few weeks ago (read a snippets of my trip here and here).  
I was so happy to be back in one of my favorite cities spending time with some of my favorite people.  Unfortunately for me, the week I spent there was possibly the hottest New York has experienced all summer.  I'm the first to admit that I don't do well with heat, particularly when it's accompanied by high humidity.  I made a huge mistake by not checking the weather forecast before my trip and plan my wardrobe accordingly.  Fortunately, I packed several skirts, dresses and shorts and loved wearing this chambray dress on a casual day out.
I didn't plan on doing any shopping while in New York but I couldn't resist this beautiful Banana Republic pencil skirt I spotted on sale.  I purchased the skirt for $15, originally $90, thanks to the greatly reduced price and additional 50% off discount.  The skirt is still available here but at a higher price point ($50).
∞
Thank you so much for reading. Be sure to check back on Friday for more on A TUESDAY IN APRIL!
You May Also Like