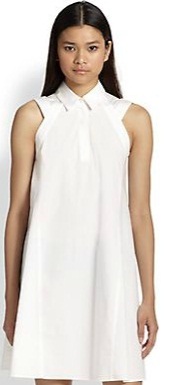 With the holiday season in full swing, I've been particularly interested in finding holiday attire that leans away from the uninspired.  I recently wrote a post introducing you to a favorite holiday ensemble of mine which involves a statement skirt paired with an over-sized or cable knit sweater.  While I absolutely love the versatility of that combination, as one who loves fashion, I couldn't possibly spend the entirety of my holidays in a uniform so to speak, no matter how chic.  So for those who enjoy a little variation, I thought I'd throw this little number in the mix.
This beautiful 3.1 Phillip Lim Trapeze Shirt Dress instantly caught my eye.  This understated dress makes quite the impact despite its simplicity and would certainly be an unexpected number to don during the holiday season.  I can certainly picture myself donning this beautiful dress to parties this holiday season and for seasons to come which is precisely why it's found its way on my wardrobe wish list.
Let me know what your go to holiday looks are and of any items currently on your wardrobe wish list.
You May Also Like