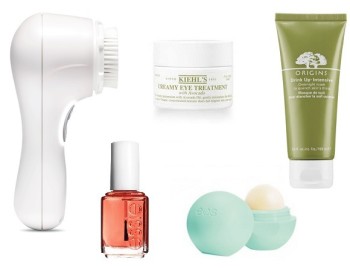 With the Hollywood awards season beginning this week (the People's Choice awards were televised on Wednesday and the Golden Globes are this Sunday!), I thought a post demonstrating how I prepare for an important event would be apropos.  As you may know from previous posts, I prefer to keep things simple, focusing on the basics of skin care.  Beginning a week prior to the event date, I am diligent about the use of the items listed below.
Clarisonic – I purchased my Clarisonic Mia 2 about two years ago and used it consistently for about 2 months before I simply got a little lazy with it.  With a renewed focus on my skin's health, I recently began using my Clarisonic 2-3 times a week.  In addition to a thorough cleanse, I love the light exfoliation I receive with this device and have noticed an improvement in my skin texture with consistent use alternating between the deep pore and normal brush heads.
Hint: I purchased quite a few brush heads on Groupon about a year ago.  I received 4 for the price of 1 ($25) so keep an eye out for future deals!
Face Mask – With my combination normal/dry skin, I find it very important to hydrate my skin, replenishing its parched moisture reserves with a bit of outside help.  The Origins Drink Up Intensive does a great job of accomplishing just that.  This incredibly moisturizing mask will leave your skin feeling soft with a fresh and youthful appearance.
Eye Cream – As a preventive measure, I use a simple anti-aging eye cream on a daily basis.  For special events, I like to switch things up by incorporating a hydrating eye cream into my skin care regime. Using a hydrating eye cream the week leading up to an event leaves my under eye area looking bright and refreshed.  The Kiehl's Creamy Eye Treatment with Avocado is one of my favorites.
Cuticle Oil – Of course, beautifully manicured nails are always a must for my final look.  To help keep my manicure looking fresh and professional, I use the Essie Apricot Cuticle Oil in conjunction with Vitamin E Oil to keep my cuticles hydrated.
Hint: If you'd like skip the cuticle oil, try giving your hands, feet and cuticles a little TLC by applying an ample amount of your regular moisturizer a few times daily, particularly before bedtime.
Lip Scrub + Moisturizer – It's easy to neglect the lips when preparing for an event but this small feature can have a big impact on ones overall appearance.  I suggest gently exfoliating your lips with a soft wash cloth, using small circular motions, the night before an important event taking care to amply moisturize as well.  This will ensure even and smooth application of any lip products and of course a beautiful frame for those pearly whites.  For a simple, easily available lip balm, try the EOS Sweet Mint lip balm, this is truly one of my favorite lip moisturizers as exemplified by this post.
Note:  Although it isn't a beauty item, I've found that increasing my water intake results in visible improvements in my skin and overall health.  Recently, I've committed to drinking at least 64 fl. oz of water a day (the recommended daily amount) beginning my day with a glass of warm lemon water.