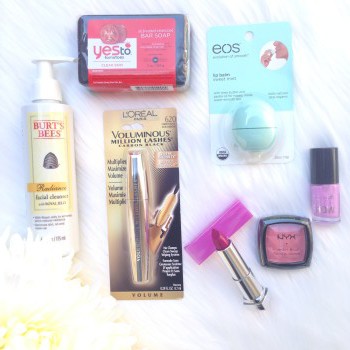 Happy Monday everyone!  Target has easily become my favorite big box store in recent years. Without fail, quick trips to Target turn into hour-long shopping excursions and this weekend was no different. I found myself by my local Target and made my way inside with the intention of grabbing only one item, the Yes To Tomatoes Charcoal Soap. Since my intention was to grab the soap alone, I decided not to get a basket to prevent me from shopping around.  Needless to say, my strategy did not prove effective.
After locating the natural beauty section of which Target has a great selection, I grabbed the soap and turned to make my way to the checkout line.  Before I knew it, my arms were full of product and I was nowhere near the checkout line.  I considered putting everything back but ended up keeping a few items.  These are the items that made the final cut.
Products Pictured
Yes to Tomatoes Activated Charcoal Bar Soap
Burt's Bees Radiance Facial Cleanser with Royal Jelly
L'Oréal Voluminous Million Lashes Mascara
EOS Lip Balm in Sweet Mint
Maybelline Color Sensational in Carnation Cabernet
NYX Powder Blush in Peach PB06
Maybelline Color Show Nail Polish in Lust for Lilac #165 (Limited Edition)
∞
Thanks for reading everyone!
You May Also Like