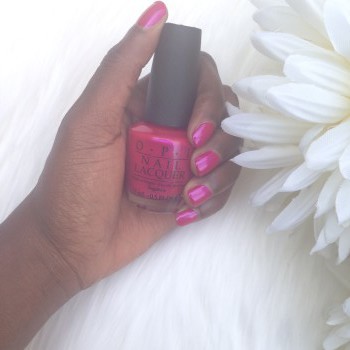 Happy Wednesday everyone!  I gave myself a fresh mani+pedi last night and thought I'd share the results with you.  I haven't always been a big fan of painting my nails but that has certainly changed in recent years. I love catch up on some of my favorite shows while pampering myself with a mani + pedi.  I recently wrote a post about some tools that come in handy when caring for you nails and while my manis never look quite as good as the professionals, these tools certainly help.
I decided to bring out an old favorite while catching up on recently missed shows (GoT most notably) and enjoying a pamper session.  I love this shade of pink from OPI.  Although the name would indicate an instantly recognizable purple hue, Pompeii Purple is a lovely shade of pink with purple undertones providing a deeper and richer finish upon application.  Pompeii Purple is perfectly bright for the season and receives many compliments without fail.  Let me know what some of your favorite pink nail colors are for the spring/summer seasons or any suggestions you may have for my next polish purchase.
∞
Thank you so much for reading!