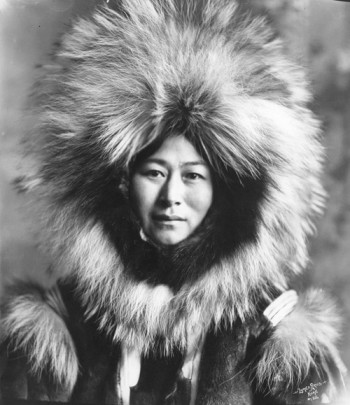 In recent weeks, the temperatures in the mid-west have been steadily declining and with that comes icy roads, frigid winds and snow-covered trees.  Though I often awe at the beauty of tree-lined street covered in snow, the freezing temperatures that accompany the beauty means it's time to tuck away my light fall jackets in favor of heavier winter coats.  Though I'm sure many of you own a parka, the exact distinction between those and other winter time staples may not be so clear (as it wasn't for me).
Pictured is the Canada Goose Kensington Parka.  These are only available for online purchase in Canada as per their website.
Definition: What differentiates a parka from other winter coats?  The park is a coat created to withstand arctic elements and is made distinguishable by an oft fur-lined hood.  That's pretty much it, the accompanying hood is what defines a parka from other winter coats.  These popular winter favorites were first worn by the Caribou Inuit to protect from frigid Arctic elements.  Parkas are made warm by down (feathers) or lined with an equally warm material such as synthetic materials (polyester), fleece or wool are also quite popular.  These garments are perfect for winter as they are made to withstand winds and temperatures far below 0º F.  If you battled the polar vortex of 2014, then I'm sure you know how invaluable owning a parka in winter can be.  While often pricey, these winter staples are worth the investment.  Below are a few great options.
Eddie Bauer – Lodge Down Parka (Orig. $229, Now $179.99) | The North Face – Women's Metropolis Down Parka ($289)  Patagonia – Vosque 3-in-1 Parka ($399)
    ∞
Thank you for visiting A TUESDAY IN APRIL.
You May Also Like