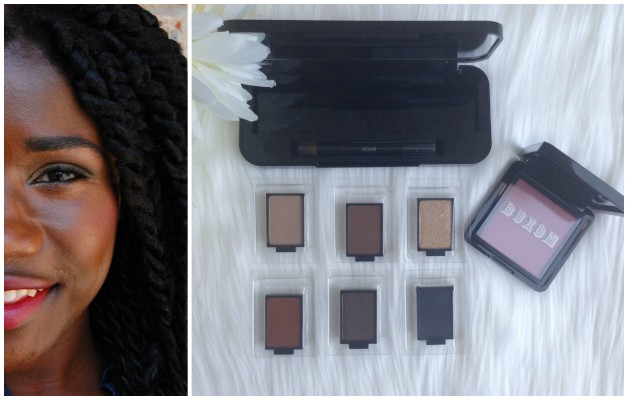 Happy Monday everyone! On Friday's post, I talked about my first experience using Sephora's beauty services (read the post here).  After the appointment, I realized that the associate mostly used Buxom products to complete the look I requested.  Before the appointment, I was intent on picking up a few products I've been eyeing for sometime.  The list included Urban Decay's blush in Quickie, Anastasia Beverly Hills Brow Wiz and a few Hourglass brushes.  I neglected everything I'd originally picked up after seeing what the associate did with the products she selected.
I was most excited about the Buxom shadows.  What interested me the most about them was the ability to build my own palette.  As an African-American woman with dark complexion, I find that many palettes with pre-selected shades are just not dark skin friendly.  Investing in a pre-made palette often means paying full price for several shadows but only being able to use half the shadows (most of the colors are far too light for my dark skin tone).  Buxom's new customizable shadow bar allows customers to choose from a selection of primer infused shadows.  There are 39 shadows to choose from (there are also pre-made palettes available) and is a great value at $40 ($85 value).  With this, I'm able to select shadows that work best for my skin tone ensuring that I'll use all of the products purchased, not wasting product or money.  I also enjoy the ability to replace or refill the shadows as I choose.
The Products
With my gift card, I was able to purchase six Buxom eyeshadows, a blush and lipstick.

Shadows:
Gimme Gorgeous (Matte Camel)
Big Spender (Matte Sable)
Gold Status (Metallic Brass)
Filthy Rich (Matte Chestnut)
Haute Couture (Metallic Java)
LBD (Matte Black)
Blush: Shangri-La-La (Toasted Berry)
Full-On Lipstick: Tokyo (Muted Cranberry)
I've discussed Buxom Cosmetics on my blog once before when I mentioned how much I love their Amplified Lash Mascara.  I highly recommend these products and Buxom as a brand.  The shadows, blush and lipstick are beautifully pigmented and last all day.  They would make a great addition to any beauty bag.
∞
Thank you so much for reading! Be sure to check back on Wednesday for another post here on A TUESDAY IN APRIL.