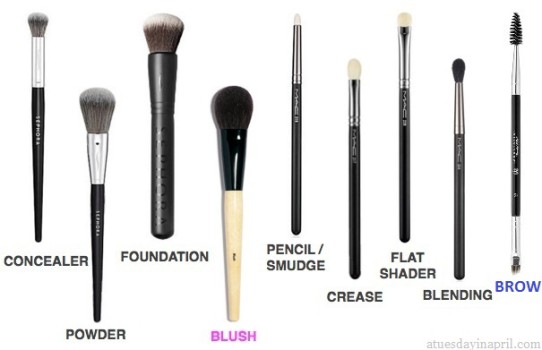 Happy Wednesday everyone! Today, I thought I'd share with you my favorite makeup brushes.  These are the brushes I find myself consistently reaching for each time I apply makeup.  In case you missed it, be sure to read my favorite way to clean my makeup brushes.  It's important to properly care for these tools not only for the sake of keeping your skin healthy but to protect the investment you've made in the purchases.
Face
Concealer – I happened upon this concealer brush while shopping for blush at Sephora.  As it happens with all Sephora shopping trips, I inevitably walk out with much more than I intended to purchase.  Since I've had such great luck wit.h their brushes in the past, I thought I'd give this one a try and haven't regretted the purchase since.  The brush is small, soft and blends all of my concealers beautifully.
Brush: Sephora Collection Pro Airbrush Concealer Brush #57
Powder  – I've been using the Sephora Collection Pro Airbrush #55 quite a bit lately not only for powder but for blush and even foundation.  I've used this brush for nearly a year now but I've had my eye and continue to reach for the soft and durable brush.
Brush: Sephora Collection Pro Airbrush #55
Foundation Brush – While I absolutely love using this gem of a brush (also mentioned here) to achieve a beautiful, 'airbrush' finish when applying foundation (it's great for cream, liquid and mineral foundation), I've come to understand that foundation brushes are just not for everyone. Many prefer to apply foundation with the cult favorite BeautyBlender or simply by warming the product between their fingers and applying.  All of these methods will work well and achieving the right effect comes with a combination of practice (to perfect technique) and preference.
Brush: Sephora Classic Multitasker Powder Brush #45
Blush – It can be difficult to know exactly where to place blush particularly for a novice.  That's why having a great blush brush comes in handy.  This Bobbi Brown brush is a good option with soft bristles that pick up just the right amount of product and deposit it where it needs to go.
Brush: Bobbi Brown Blush Brush
Eyes
Pencil/Smudge – This brush is absolutely necessary for anyone who loves a dramatic smokey eye.  I love using it to gently blend eyeshadow underneath my eye but I especially like to use this to concentrate shadow in my crease or create the perfect outer '>'shape.
Brush: MAC 219 Pencil Brush
Crease – I reach for a crease brush almost every time I complete my eye makeup.  From simple to dramatic, this brush does a beautiful job of placing, shading and blending powder and cream products.
Brush: MAC 217 Blending Brush
Flat Shader –  This brush is excellent for packing on shadow.  The 239 brush is perfect for building intense color and its tapered rounded brush is perfect for blending emollient based product.
Brush: MAC 239 Shader Brush
Blending –  When applying any amount of eyeshadow, I highly recommend that you blend!  A blending brush is the only way to avoid The 224 tapered blending brush.  The soft, dome-shaped brush allows for controlled application and blending of color.  This brush smooths out harsh lines seamlessly.
Brush: MAC 224 Tapered Blending Brush
MVP
Angled Brow Brush – I've mentioned the Anastasia Brow Pomade and #12 brush several times before on the blog (here and here) and have raved about it each time.  To be honest, I could do without most of the brushes mentioned in this post but giving up this brush would prove to be quite the battle.  The dual-ended brush is equipped with a spoolie for grooming and brush for product placement.
Brush: Anastasia Beverly Hills Brush #12
∞
Note: You'll notice that my favorite eye makeup brushes are all from MAC Cosmetics while most of my face brushes are Sephora brand.  This is simply because both MAC and Sephora are well-known brands that produce quality products.  MAC is also easily found at major department stores and online making it quite accessible while there seems to be a Sephora in just about every mall and street.