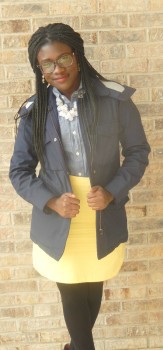 Happy Wednesday everyone! With a sudden and dramatic drop in temperature here in the Midwest, the impending arrival of fall seems much closer than expected and I must say that I'm not terribly disappointed.  It's no secret that fall is my favorite season.  I love the cool crisp air and holidays but most of all, I love the fashion statements that are made during this season.

I've been looking forward to bringing a fall favorite back into circulation for some time.  I purchased this jacket last fall from Madewell.  It was an unexpected and lucky find (I purchased the last one in store which just happened to be in my size and greatly discounted) but one I was happy to add to my wardrobe.  I've been looking forward to bringing this jacket back into rotation and have been happy to do so during the cool Midwestern evenings we've been experiencing lately.
∞
Thank you so much for reading!
You May Also Like