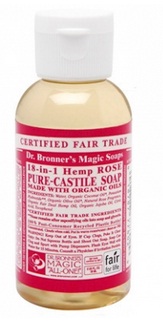 I'm sure most of you are familiar with the Dr. Bronner's brand of castile soap. I've been using Dr. Bronner's castile soap for several years now and can attest to the efficacy of this product for just about any kind of cleaning you can imagine (there are said to be more than 18 uses).  I began a conversation with a sales associate while browsing the isles of a health food store recently and we started discussing our on-again, off-again love of Dr. Bronner's.  I decided to pick up an 8 oz bottle as I was leaving because it's certainly a useful product to have around.
A few weeks ago, I misplaced the sample of the Beautyblender BlenderCleanser Solid I received from Sephora and loved! In a pinch and desperately needing to clean my brushes, I reached for my bottle of Dr. Bronner's and was pleasantly surprised at the result.  A few drops of the soap in lukewarm water produced thoroughly clean and soft brushes.  Since then, this has become my go to when my makeup brushes are in need of a good cleaning.  A small bottle will last for months making this is an inexpensive, cost-effective and environmentally friendly way to clean your makeup brushes.  No wonder it's often referred to as "magic" soap!
Hint: Try soaking your brushes in extra virgin olive oil for a few minutes before washing them.  This will leave your brushes incredibly soft and ready for use.