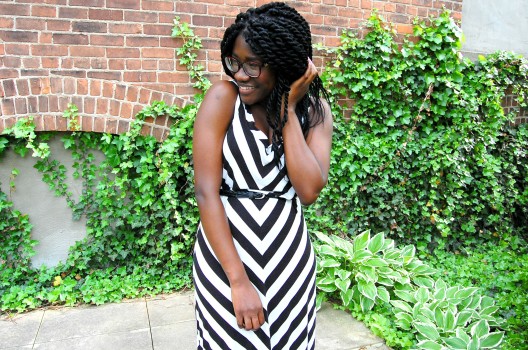 Happy Wednesday everyone!  I found an old favorite of mine which has been to Europe and back with me.  
A few years ago I decided to embark on my biggest adventure yet.  In August of 2013, I bought a backpack, a camera, a plane ticket and made my way to Europe for a solo month-long backpacking trip (more about my trip to come in a future post).  It was one of the best decisions I'd ever made.  In true form, I overstuffed my backpack before traveling but one of the best things I packed was this black and white maxi dress.  I purchased it at Kohls a few weeks before leaving and packed it in case I needed a more formal dress than the others I was taking (you don't really have much occasion for formal wear while backpacking in Europe).
Wearing the maxi dress in Florence, Italy
I can't tell you how many times I wore this dress or how many compliments I received in it.  It's a simple maxi that elongated my petite frame and became my go-to when in need of an effortless and chic ensemble.  I've shown it worn in two ways today.  While the dress is great when worn without accessories, I love adding a simple belt to cinch in my waist and pull my look together.
∞
Thanks for reading everyone!  Many thanks to my friend Jeana for taking these photos!
You May Also Like