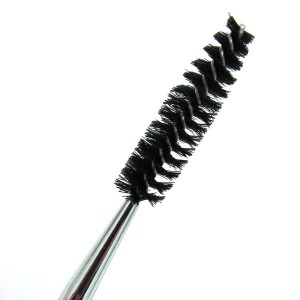 The Spoolie.  I'm sure you've heard of it but what is it and how do you use it?
I had the same questions when my interest in makeup first piqued a few years ago.  Now I know why these items are so beneficial to have in your makeup bag.
So, what is it?  A spoolie is a stand alone mascara brush with long handles designed for use with eyelashes and eyebrows.  Resembling a traditional mascara wand, spoolies have full bristles with a tapered tip for easy use on short, long, thick or thin lashes and brows.
How do you use it? Spoolies are quite versatile and can serve several different purposes.  I use a  spoolie when applying brow product to achieve a clean and natural look.  I brush through my brows before product application and soften any harsh lines after.   Spoolies also come in handy to prevent clumpy mascara application.  Just brush through your lashes before applying mascara to reduce the likelihood of clumps or gently removing any excess product and clumps from your lashes after application.
Double Duty – I would recommend selecting a double duty spoolie that comes outfitted with a product or brush on one end and a spoolie on the other.  A few of my favorites are the Anastasia Brow Pencil #12 and Anastasia Brow Wiz mentioned here but nearly every makeup brand has a spoolie/brush/product combo.
Tip:  Every makeup counter has a supply of plastic mascara brushes available for the purpose of testing mascara.  Since I don't carry my Anastasia brush with me everywhere I go, I make it a point to ask for 2-3 of these when I make a purchase. I like to stash these in my purse as they are great for travel and on the go use.