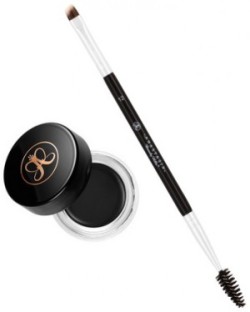 I've never really given much thought to my eyebrows and their ability to frame my face beyond simply maintaining their shape.  I was much more focused on keeping them nice and tidy with regular visits to a threading bar than with product.  This changed after a bad experience with an inexperienced aesthetician left be with poorly waxed brows.  The horrible shape I was left with made me look angry and warranted a declaration to friends "I'm not mad at you, my eyebrows are".
Knowing it would take a few months for my brows to fill in, I went in search of a product that could help me through the transition period.  After a few visits to makeup counters, I found The Anastasia Dipbrow Pomade ($18) on a trip to New York.  To be honest, I was a little intimidated by the thought of using a pomade and a brush to sculpt my brows but after a little convincing from the sales associate, I decided to make the purchase and found that this easy to use product is one of the best out there for brows.  When paired with the #12 brush from the same brand, this combination will yield beautifully sculpted brows that perfectly frame your face.  Although my brows have long since grown in and the shape corrected, I continue to use this product to help complete a prepped face.
If like me you're a little intimidated by using this combination, I would recommend starting with  Brow Wiz from the same line.  This easy to use tool comes equipped with a retractable pencil on one end and a brush on the other for subtle and naturally filled effect.