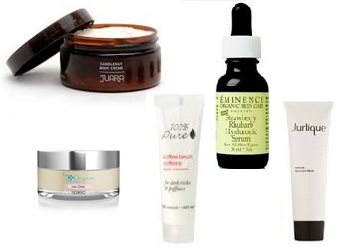 From recent launches to cult favorites, I'm always on the look out for products that will not only promise to produce the skin care results I seek but actually deliver on said promises.  As evidenced by my previous skin care posts (here, here and here), I find it best to focus my energy and resources on my skin with the understanding that healthy skin is the best foundation on which to build upon.  Healthy skin provides a great canvas on which to apply makeup and let's be honest, I feel great when my skin looks great.  Below are a few beauty items, each loved by consumers, currently on my wish list.
Note: As you'll notice, the products featured in today's post are either 100% natural or organic and are produced by companies dedicated to using toxic free ingredients.  The explanation for this is simple, I strive to live a green/toxic free life as much as possible.  This is a choice that I have made for myself and I certainly don't wish to impose my decision/beliefs on anyone else.  These are great products for anyone.
1. Juara – Candlenut Body Creme ($35)
I absolutely love body moisturizers particularly butters and cremes.  This rich body cream is made with a mixture of candlenut, avocado, and rice brain oils as well as illipe butter for a nourishing treatment from head to toe.  I've never heard of many of these naturally derived ingredients but they combine to make this luxurious body cream on the top of my wish list.
2. Éminence – Strawberry Rhubarb Hyaluronic Serum ($45)
After years of reading rave reviews from celebrities in beauty magazines, I've decided to see what all the fuss over the Éminence Organic Skin Care line is about.  One of the line's best sellers, this light serum is said to replenish and hydrate dry skin, minimizing fine lines and wrinkles.
3. The Organic Pharmacy – Antioxidant Face Cream ($95)
This Antioxidant Face Cream has been on my beauty wish list for quite some time, actually, the entire line of Organic Pharmacy products has been on my wish list for years.  Though its limited availability here in the States has made it difficult to try, this item shall remain on my beauty wish list for the great reviews it receives.
4. 100% Pure – Coffee Bean Caffeine Eye Cream ($21)
A naturally derived eye cream to help combat dark circles and puffiness? Sign me up!  Consumers agree that this product is not only moisturizing but effective in combating dark circles and puffiness making it a must try.
5. Jurlique – Intense Recovery Mask ($76)
Jurlique is a brand known and loved for years with products found on many "best of" lists. This mask would be a great addition to any skin care regime this winter, particularly for those with normal to dry skin looking for a moisture boost during the colder months.
Let me know of any skin care products on your beauty wish list in the comments below.