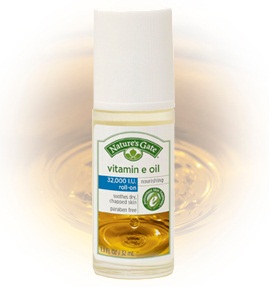 With the weather getting increasingly colder as we move closer to the onset of winter (a high of 30°F is considered fall here in the Midwest), I've found it increasingly important to be diligent about moisturizing and nourishing my skin.  To protect my skin from the harsh realities of the weather outside, I rely on one of my tried and true winter time favorites, Vitamin E Oil.  This is a versatile oil found in many beauty products for hair, skin and nails for its moisturizing and nourishing properties.  I personally prefer to purchase pure Vitamin E Oil in a small bottle which allows me the freedom of using it as I please.
The 3 Ways In Which I Use Vitamin E Oil.
1. Refreshing Mist – A mixture of Vitamin E oil and rose-water is an absolute favorite of mine when in need of a light and refreshing mist of moisture.  I occasionally make a batch of rose-water but often purchase a bottle at my local health food store.  Before applying treatments and moisturizer, I lightly mist my face with this mixture.  I keep a small bottle with me to use throughout the day.  My skin always feels well moisturized after use.
2. Night Treatment – Products applied topically before bed are a very important part of a nigh time regime.  While we're resting, our skin is hard at work repairing, regenerating and rejuvenating.  During this time, skin is more receptive to active ingredients placed topically with an increase in cellular turnover and temperature.  This means that products applied topically are better able to penetrate and are much more effective.  Additionally, there is an increase in moisture loss at this time so supplying your skin with moisture rich products is very important!
For an extra boost of nourishment, I mix a few pumps of my Acure – Argan Oil or Coconut Oil with Vitamin E oil and apply after a light mist of the rosewater.  Mixing the Vitamin E oil with Argan/Coconut oil allows for smoother application as Vitamin E oil is very thick.  This provides my skin with an intensive, moisture and nutrient rich night treatment to rival the most luxurious products out there.  Vitamin E oil is often found in skin care treatments for its ability to prevent the formation and subsequent damage of free radicals.  The antioxidant power of Vitamin E oil also boosts the production of collagen and supports the process of cell growth and turnover.
3. Nail & Cuticle Saver – After applying the mixture of Vitamin E oil + Argan/Coconut oil, I am sure to utilize the remaining mixture to protect (and often rescue) my dry nails and cuticles.  I will admit that I often forget to treat and protect my hands, nails and cuticles from the cold so a few drops of Vitamin E oil helps keep my nails and cuticles healthy, nourished and well moisturized.
Let me know your thoughts on Vitamin E Oil and how you prefer to use it!  Check out these posts, found here , here and here, for added tips on how to achieve healthy, glowing skin during the cold winter months.
You May Also Like